Meet Lorna
When you meet Lorna, you'd never guess that she was once unable to feed her children and living in fear of eviction.
The mother-of-three works 16 hours a week as a school kitchen assistant and receives benefits to top up her very low income. When she went on maternity leave in the  winter of 2011, her benefits were suspended because her circumstances had changed. "It put me right at rock bottom. I couldn't provide my children with the basic things that they should have. It was devastating."
She ended up keeping her son home from school because she couldn't afford packed lunches. Because she works, her children weren't eligible for free school meals. Her son's school liaison worker visited Lorna at home and saw that she needed help so referred her to First Love Foundation's foodbank project. Lorna was embarrassed and reluctant to reach out for help, as she mistakenly believed that she wasn't eligible for help.
"I am a working person, I thought foodbanks were for people that didn't work," she says. However, when she walked through the doors, Lorna remembers how she was immediately made to feel at ease.
"They actually asked me how I was. That was such a big thing that they actually asked me as a person, not as a mum, but as Lorna – how are you coping?" she says. "When they came down with the food parcel I assumed it was for a few people. They must've had 10 carrier bags. I said is that all for me?" she says. "That day I cried my eyes out because at that point the donation of food they gave me was what I could only afford to buy in a month."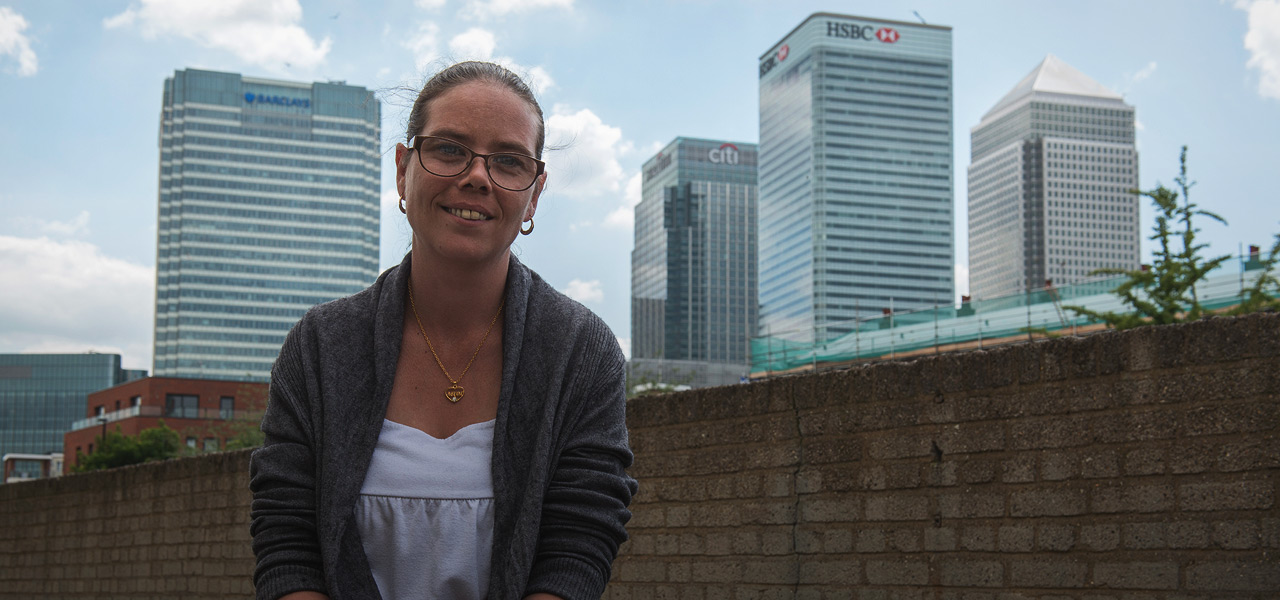 From her Poplar flat's kitchen window, she had a clear view of all the big banks in Canary Wharf. She and her sons would sit wrapped in blankets in their unheated flat, watching the lights going on in each level as cleaners moved through the empty skyscrapers.
At the time, through no fault of her own, she was also facing eviction from her flat due to rent arrears, caused by the on-off nature of how her benefits had been paid over the past few years.
With less than a week to go, and with no idea what she was going to do, she told us on her last visit to the foodbank. She was directed to seek assistance from the charity Shelter, who were able to help put a temporary hold on the eviction
When she went back to work following maternity leave, her housing benefit was again suspended due to a change of circumstances. She wasn't told that this had happened which led to what would be a total of 3 eviction notices in 12 months. Unable to stop the eviction herself, she again turned to the First Love Foundation.
"That first step through First Love Foundation's door is the hardest step that you'll ever make but it's the best step you'll ever make because it's the best support, the best network and the best advice."
Lorna
Single mum of three
The charity contacted a senior manager, Lee Fearon, at the housing benefits team to advocate on her behalf – a week later Lorna got a letter telling her that her evictions has been stopped and that she would be paid the benefits she was owed.
"My rent arrears at this point had stood at £1956.18 at that time," she says.
"Not only was I rent arrears free – I was in credit! My mouth dropped to the floor."
Once her eviction had been stopped and her rent arrears cleared, she found that she was in a position to apply to move to a new home, as she needed an extra bedroom for her eldest child. Now, as a result of the assistance she received, Lorna and her family have now moved into more suitable accommodation
Lorna has come such a long way since she first came to the foodbank. She's made a speech at Parliament and inspired countless others with her story. She's even played host to a Baroness visiting her flat.
But when asked about her proudest moment, she says, amazingly, that it was the fact that she has helped someone else in a similar situation to what she was once in. Giving them a voice.
"I feel like I have a voice and I feel like my voice is being heard. It's not a whisper anymore."
How you can help
Like to help the local community? There are lots of different ways to get involved.

Donate money
We know that not everyone has the time to volunteer with us.  You can help us support the people in need by donating money today.

Donate time
We have a very small team, so any time you can give will make a difference – from helping at our office, supporting as an interpreter for non-English-speaking clients, to running CV preparation workshops. We couldn't do it without you.