Get involved
There are lots of different ways to get involved.

Donate money
We know that not everyone has the time to volunteer with us.
Our most pressing need right now is funding.
This has become all the more urgent due to the decline in donations across the charity sector since the start of 2021.
Our charity is funded by the public, by people just like you.
Donations help us with the core part of our work, with solving immediate crisis and keeping it away.
You can donate here: Donate money | First Love Foundation

Donate time
There are many ways you can support us as a volunteer, for example: providing admin support in the office, acting as an interpreter for non-English-speaking clients, or offering graphic design or filming skills to produce social media posts.
If you would like to volunteer with us, please fill out your information on the Contact Us page and we will be in touch within 5 working days with more information on how you can get involved…
A gift of £50 would help cover the cost of a session with a member of the Advice & Support service team, as they help resolve the immediate crisis and work with people to put longer term solutions in place.
Each week we require over 25 volunteer hours to help support in a variety of ways, such as interpreting for non-English-speaking clients, crafting graphics for our social media updates, or providing office admin support.
Without volunteer support, we would not be able to meet the growing needs of the community.  This is especially needed now with the soaring costs of living.
For every pound you donate, 75p goes straight towards running our front-line support service.
"I like meeting claimants and getting stuck into their issues. It's the bit of the job where you feel it's immediately worthwhile."
Martin
CPAG Welfare Rights Advisor
"Working with First Love Foundation represents an important part of our efforts to make the Council's Benefits Service more accessible to residents."
Lee
Housing Benefits Policy Manager
"I'm so very grateful to the First Love Foundation charity – and for the great and important work that they do for other people."
Alena
mother of two
Fundraise for First Love
Don't have the time to volunteer but would like to do something else instead? From organising a cake sale at your work place right through to running a marathon, you can help us support the local community.
We can't do it alone
The support of our partners is vital

Our corporate partners
Support from our corporate partners is invaluable. They help us in many ways – through financial donations, gifts-in-kind and by helping ensure we can continue to develop sustainably.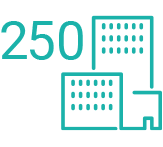 Partner organisations
We partner with over 250 agencies who are best placed to identify people in Tower Hamlets facing crisis. Together, we work to tackle the underlying issues that cause food poverty, ensuring no one slips through the cracks.