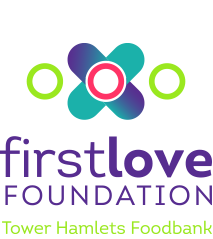 About Tower Hamlets Foodbank
We give food, support and advice to local people in crisis. Each person is given an emergency donation of food (enough for 3 days) and the help they need to resolve their crisis. All food is donated to us by the community – schools, churches, individuals, businesses and at supermarket collections. We believe that emergency food support is only the first step in someone's journey out of crisis.
How you can help
Want to help the local community? There are different ways to get involved.

Donate money
We know that not everyone has the time to volunteer with us or organise a food collection. You can help us support people in crisis by donating money today.

Donate time
We have a very small team, so any time you can give will make a difference – from helping at our office, assisting at our foodbank, or sorting food at our warehouse. We couldn't do it without you.

Donate food
We always need donations of non-perishable foods and toiletries. From a few cans to an office food collection, we appreciate every donation and it goes a long way to make a difference.
Meet Terene
Terene's world fell apart when she was unable to keep working due to her 9-year-old daughter's escalating health issues.
"By the time that I left the foodbank that first day, I remember feeling that it was possible for me to get out of this rut, that it was possible for me to move forward."
Sandra
former foodbank volunteer
"If I could list my achievements, at the top would be working with First Love Foundation because it personifies what we're trying to do. It puts a face on it."
Lee
Housing Benefits Policy Manager
"That first step through the foodbank door is the hardest step that you'll ever make but it's the best step you'll ever make because it's the best support, the best network and the best advice."
Lorna
single mum of three
How our foodbank works
In the last year alone, our community donated over 36 tonnes of food that was distributed to people facing crisis in Tower Hamlets. Here's how it works:

Collect
We receive donations of long-life and non-perishable foods like canned vegetables, tinned meats, as well as toiletries. We can't accept donations of fresh food or food past its use-by date.

Sort
When a donation arrives at our warehouse, it's sorted by date and type by our team of volunteers. The food is kept at the warehouse until it's needed at one of our foodbank centres.

Distribute
People in crisis are directed to one of our foodbank centres by our network of referral partners. This is where we provide a safe and non-judgmental place to begin the journey to resolving their crisis.
Want to donate or organise a collection?
From a couple of cans to a large-scale workplace food collection, there are different ways that you can donate food for those who need it most.
Ways to donate food
You can also drop off food donations at our warehouse in Poplar but please get in touch first so we can make sure someone is there to meet you. We also accept online supermarket deliveries at the warehouse. Just make sure you list our phone number when you place the order and let us know so we can make sure we're there to accept the delivery. If you're not sure what food to donate, check our news page or social media to see what's in short supply.
We have permanent collection points in these supermarkets where you can purchase items in store and drop them off in the collection basket on your way out:
Organise a collection
Want to hold a collection at school, work, church or with friends? Great! All you need to do is:

Contact us to let us know. We'll send you a collection pack and details of our most-needed items.
Print your collection poster and add a date.
Let us know your deadline date.
Pop your collection box or basket somewhere visible.
Once it's full, get back in touch about getting the food to our warehouse so we can arrange to get it the people who need it.
Want to refer someone
If your organisation would like to refer someone in crisis, get in touch to find out how you can partner with us.