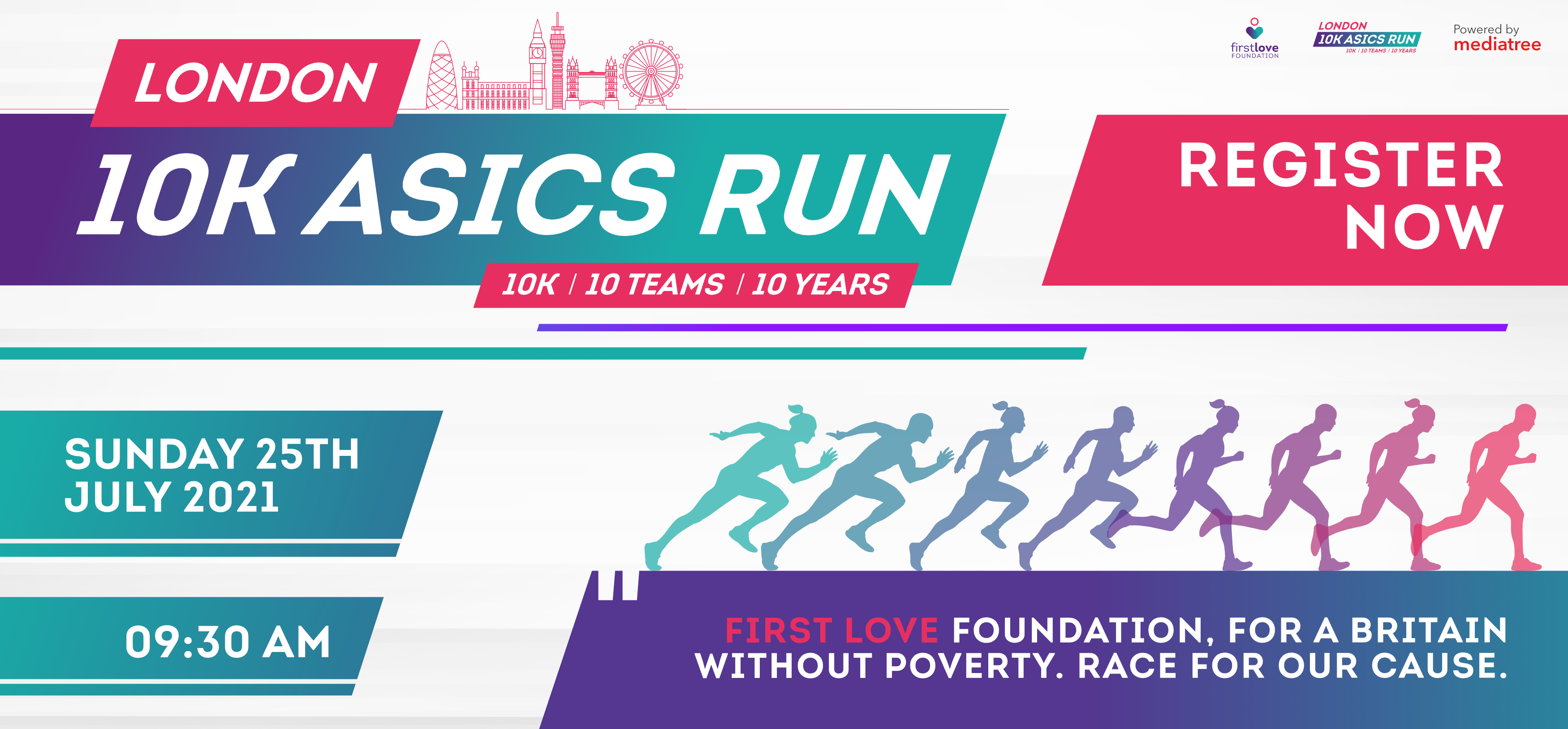 The ASICS London 10K is back this year on Sunday 25th July at 09.30am!
To mark our 10th year in operation, we are aiming for 10 groups of 10 people, to run 10K for our cause! We are challenging you to support us!
Are you interested in running for us?
Perhaps your organisation is interested in a challenge for a good cause? If so, you can get in touch with Melanie at partnerships@firstlovefoundation.org.uk to sign up your organisation.
If you would like to join as a solo runner, you can do so here.
Where does my money go?
We want to see a Britain without poverty. We are working towards this by supporting people to tackle crisis, to rebuild confidence and skills for their journey out of poverty. All money raised will go directly towards working with those most in need. You can find out more about the work we do and the kinds of people we have worked with here.
This year is particularly important.
In 2020 we scaled our services to meet the demands of the borough. At the same time, most fundraising events were cancelled in line with government restrictions. That makes this year a particularly important year for fundraising! Any amount you can raise to support us will significantly help our small charity.
What if the event can't go ahead?
The organisers say…
"Over the coming months we will continue working on plans to enable us to host the ASICS London 10K as scheduled in July 2021, in a 'Covid-secure' way. This may include a range of measures and alterations that could be in place at the event, including social distancing, staggered arrival times, pre-event health questionnaires and other safety precautions.
If however, due to Covid-19, we are required to change the event date and/or the event format, then as part of our "Covid Guarantee" your entry will be automatically deferred to the new event date and/or format, free of charge."
To register please email us before hand so we know who will be taking part!
For more information:
ASICS London 10k 2021 – LimeLight Sports Club
We hope you can join us!