This week The Insurance Institute of London's Young Members' Committee organised their first ever charity quiz night and kindly chose to support us. The quiz was held at the Steam Wine Bar Restaurant – thank you to Steve and the team for kindly donating the space for the night.
The quiz consisted of multiple rounds ranging from history to sport to films. The night finished with a well-supported raffle in which people won amazing prizes of champagne, haircuts, meals out and not to mention, a mattress!
We are greatly appreciative for their kindness and generosity organising the event. They also gave Andrew Manning, our Trustee and former Insurance Underwriter, the opportunity to speak at the event; he raised awareness of the key critical issues in Tower Hamlets and shared about the work First Love Foundation does to address this and promote change in the community and society as a whole.
"The Insurance Institute of London's Young Members' Committee was delighted to support First Love Foundation at our first Charity Quiz Night. We selected the charity after learning of the stark reality faced by those in crisis in Tower Hamlets, compared to our experience of working just down the road in the Square Mile. It was amazing to see the charity's work in person and hear how its services result in 67% of immediate issues being solved on first visit. It shows what a need there is for this service and how it really benefits the community we work in. We were humbled to help raise awareness and money for such a great cause."

Sydonie Williams ACII, Insurance Institute of London Young Members' Committee & Senior Underwriter, Gen Re
After totalling up the cash donations from the raffle and ticket sales, the grand total raised was an amazing £2447.85 – a brilliant result from such a fantastic evening!
In his speech, Andrew gave some examples of how the donations will impact our work:
£10 will cover the cost of drinks and biscuits provided at one of our Crisis Centre sessions.
£50 covers the cost of a 1-2-1 session with a project worker to unpick a client's problems and begin the journey out of crisis
A monthly donation of £20, with gift aid will provide us with £300 per year, which will help deliver a bespoke package of support to help a person move towards employment, live sustainably and no longer having to rely on emergency food support.
Thank you to everyone who was involved in the event's success, particularly Lindsey, Sydonie, Hannah, Cat and Holly from the IIL YMC; John the Quiz MC for the night; Steve and hi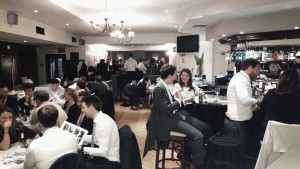 s team at the Steam Wine Bar for hosting; and of course, everyone who attended and donated so generously. You will make such a difference to people in Tower Hamlets, helping them break the cycle of crisis and start the journey towards a sustainable future.
Please fill in this fundraising form if you are interested in hosting a charity quiz night or another fundraising event for First Love Foundation – we would love to hear from you.
Check out this video from the night produced by Steam Wine Bar.