First Love Blog
From March 2020, we aim to inspire and uplift with every post we write. The First Love blog has always been about documenting the support of the community, our success stories and the like – but we are living in a very testing time right now. We hope you can come here to unwind, be inspired, and leave wanting to create positive change. We hope you enjoy!
This was the busiest week so far with lots of fun activities for both the children and the parents. There was something for everyone to enjoy.
Activities for the children included clay modelling, bracelet making and t-shirt decorating and shadow puppet making with David Graham from Wilton's Music Hall in Wapping. Our wonderful partners and friends, Hannan and Richard from Rainbow Collective also came and did an animation workshop with the older children.
Hannan from the Rainbow Collective said, "We have been working with the wonderful team at First Love for the last couple of years doing Films for Food events, where we raise food donations through monthly film screenings in East London." (Check out Films for Food here)

"We volunteered at LOVE Summer this week to do animation workshops with children. The workshops went really well and the children were even able to show the animation they made to all the families at the end of the session. At Rainbow Collective, we believe it's important to teach young people from the community that they can use film and animation as a way of expressing themselves. We are grateful for the opportunity to teach a group of talented children from Tower Hamlets and we look forward to partnering with First Love again to deliver a week long animation workshop during half term."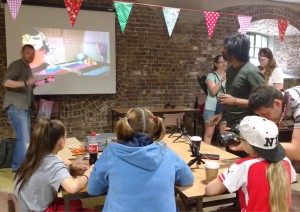 This week we held our first parents-only activity, which was an art therapy session run by First Love Foundation's Project Worker by day, and artist by night, Fenna. The parents really enjoyed this activity, they found it relaxing and valued the time to do something for themselves while their children were happily being entertained and looked after by our volunteers.
A great team from Boots Opticians joined us again and conducted vision screening tests as well as kindly giving out free sunglasses, sun cream and goody bags! They also brought with them a fantastic story teller, Tony Dallas, who delivered fun, interactive stories to the families.
Denise Bentley, Co-founder & CEO of First Love Foundation commented that "For someone facing crisis, organising a trip to the opticians is not often a top priority. So being able to receive a vision screening test during Love Summer, ahead of the new school year, has been so beneficial for the families to their health as well as their wellbeing."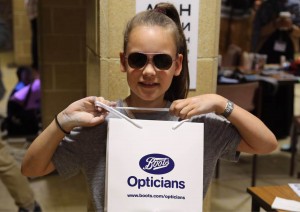 The impact of partnering with Boots Opticians this year is already evident with one of our LOVE Summer children. Rayan, aged 8, was seen by the team from Boots Opticians at a previous LOVE Summer session this summer. His glasses were broken and had been for a while, but after receiving a vision screening test and getting some advice from the team, he proudly wore his new glasses this week to show us all! As a team, we hope that he will have a better start to the new school year because of the help he received at LOVE Summer.
Thank you so much for supporting this event – none of this would have been possible without your food donations and giving. It's amazing that so many have already donated £3 towards tackling holiday hunger and isolation. To join them and show your support, text 'SUMR03 £3' to 70070 and donate right now*.
Catch up on what has happened the previous weeks here
*You will be charged at your standard network rate. Just Giving will never record your mobile number so it cannot be passed on to the charity or any third parties.