A group of students, parents and teachers from Bigland Green Primary School came to visit First Love HQ in July to hand deliver a very important package.
Over the past few years, the students at Bigland Green Primary School have raised money for local charities through monthly non-school uniform days. "This year we have chosen to donate towards the wonderful work you do at the Foodbank" said Azzam Khan, the school's Parent Involvement Officer. We were overwhelmed when they handed us a cheque for £755.54!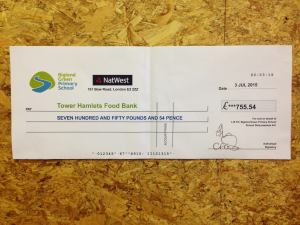 The students visited as part of their CanHelp week, which is when the school helps local charitable causes. Our Warehouse Supervisor, Barney, took them a tour of the warehouse and then our Foodbank Coordinator, Sophie, gave a short presentation about fairness and inequality in Tower Hamlets and beyond. The students discussed what is fair and unfair and how great it is that the Tower Hamlets community wants to share with those who have less. The parents and teachers were also amazed to find out that our volunteers are all from the local community.
We'd like to say a huge thank you to Bigland Green Primary School for their donation and support.
Whilst the school summer holiday can for some mean sandy beaches and lots of sunshine, for many families in Tower Hamlets it can be a challenging time. Given the high levels of Child Poverty in Tower Hamlets, living below the breadline often means the free school meal is the only meal of the day. Without this much needed support during the summer holidays, some parents have to go without food to be able to provide for their children.
At First Love Foundation, we run a Summer School Meal Scheme over the summer holidays. Just over thirty families nominated by local care professionals are offered food support and an opportunity to see our Project Worker as well as access to other services. Fun activities and games are laid on for the children. This is all to ensure local families who are struggling during a challenging time are able to access the help they need and provide for their children.
If you would like to support families struggling during the summer holidays you can donate here.